My articles on the Golden Age of Mystery are written at the request of Lizzie Hayes, editor of Mystery People, and originally appeared in the Mystery People ezine. Lizzie has also featured some articles in her own blog. However, I believe that these writers are significant enough to deserve all the attention they can get.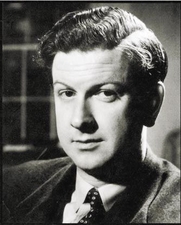 I had never read any of Edmund Crispin's books until I researched him for this article. Now I am horrified that I might have missed the pleasure of discovering the unequalled Gervase Fen. Most of Crispin's Fen books have been reprinted and are available to buy. So treat yourself and enjoy.
Edmund Crispin is the pseudonym of Robert Bruce Montgomery, known as Bruce Montgomery, who is remarkable because he achieved equal fame, under his own name and his pseudonym, in two different fields of creativity. As Bruce Montgomery, he was a popular composer and, as Edmund Crispin, an acclaimed writer of nine detective novels and two volumes of short stories.
Montgomery was born in Buckinghamshire in 1921, and educated at Merchant Taylors' School. As a child he had a congenital deformity of the feet and, up to the age of fourteen, he had to endure many operations and wear callipers to prevent his feet turning inwards. He graduated from St John's College, Oxford in 1943, having been for two years its organ scholar and choirmaster. He taught at Shrewsbury School from 1943 to 1945. His initial fame came as a composer of choral and vocal music, the best known of which is An Oxford Requiem (1951.) He then turned to film work and wrote the scores for many British comedies in the 1950s. He composed six scores for the Carry On series, including the original Carry On theme. In 1961 he was responsible for the screenplay and score of the comedy set in an elite music school, Raising the Wind. This film drew heavily on the casts of two popular comedy series of the time, the Carry On and the Doctor series, although it did not belong in either series.
From 1944 until 1953, as Edmund Crispin, he published eight detective novels and one collection of short stories. His literary output then dried up, although he still wrote reviews of books in the crime and science fiction genres for the Sunday Times. In 1977, just before his death, he completed and published a final crime novel, The Glimpses of the Moon. Crispin died in 1978, and in 1979 a short story collection, Fen Country, was published posthumously.
From 1953 onwards he produced little music or literary work, although he edited seven volumes entitled Best Science Fiction, which were published in the 1960s. He lived quietly in Devon, in poor health due to alcohol-related problems. In 1976, he married his secretary, Ann. He died two years later in 1978.
While studying at Oxford, Crispin read and admired detective stories; his particular heroes were John Dickson Carr and Michael Innes, and when he started to create his own detective fiction he adopted the name of one of the characters in Innes' novel, Hamlet, Revenge! As his pseudonym.
Crispin's detective is Gervase Fen, a professor of English at St Christopher's College, Oxford. This fictional college is located next to Crispin's own college, St John's. Fen's character is reputedly based on an eccentric Oxford professor, W.E. Moore. In the first of Crispin's detective novels, The Case of the Gilded Fly (1944) we encounter Gervase Fen as the train he is travelling on is delayed just outside Oxford: 'At no time a patient man, the delays drove him to distraction. He coughed and groaned and yawned and shuffled his feet and agitated his long, lanky body about in the corner where he sat. His cheerful, ruddy, clean-shaven face grew even ruddier than usual; his dark hair, sedulously plastered down with water, broke out into disaffected fragments towards the crown.' A few years later, his physical appearance has changed very little but we are given more information about his taste in clothes: 'His face was cheerful, ruddy and clean-shaven, with shrewd and humorous ice-blue eyes, and he had on a grey suit, a green tie embellished with mermaids, and an extraordinary hat.' (Love Lies Bleeding, 1948.)
Fen is in his early forties, a man of great academic distinction, boundless energy and insatiable curiosity about all manner of things. His passion is for detecting crime, just as the favourite hobby of his friend, Sir Richard Freeman, the Chief Constable of Oxford, is English literature.
Fen is never the romantic hero. If romance intrudes it is usually the province of a friend,colleague or former student of Fen. Gervase Fen is married to 'a plain, spectacled, sensible little woman, incongruously called Dolly', (The Case of the Gilded Fly 1944) who is not in the least perturbed by Fen's behaviour, as when an elderly, deaf colleague of Fen foists himself upon the company and demands whisky: 'Fen got it for him with painful reluctance, and contented himself henceforth with uttering in a penetrating whisper various slanders against the old man, to the acute embarrassment of everyone except Mrs Fen, who was apparently quite used to it and who said, "Now, Gervase!" in an objurgatory but automatic manner every few minutes.' (The Case of the Gilded Fly, 1944.) Fen's marriage is a happy, placid affair, which allows him to be on easy terms with attractive young women without taking the matter any further. 'She wore a light dress of plain black, with white collar and cuffs, which modelled her figure to perfection. Even Fen, who being comfortably married, had some time ago, more from a sense of wasted effort than from any moral scruples, given up looking at girls' figures, was manifestly impressed.' (Holy Disorders, 1945.)
Much of the information we get about Fen is thrown in, almost incidentally. We know he has children because, at one point, he is summoned back to an investigation when he is playing ball with his son. Also, when he feels his case has become becalmed, 'he went home and spent the remainder of the day eating, sleeping, reading, vilifying his children and practising desultorily on the French horn.' (Frequent Hearses, 1950.)
We discover that he served in the First World War because, when a villain tries to shoot at him and his companion, 'Fen, who had fought in the Great War, fell flat on his face, with well-drilled precision. Geoffrey, who had not, remained immobile, gaping in frank stupefaction.' (Holy Disorders, 1945.) That is all we are told about Fen's military service and we are given no information about his youth.
Fen is clever, vain and boastful; he makes a lot of fuss about an insect sting on his finger but when he is in real danger he is courageous, as when he is tied up and at the mercy of an enemy agent who: 'stepped forward and kicked Fen in the face.
After a minute: "That hurt," said Fen mildly, "and you've knocked out one of my teeth." He spat it on to the floor. "Why do you conspire against your country?"' (Holy Disorders, 1945.)
On another occasion, Fen and the young woman he is attempting to rescue are being stalked by by an enemy who intends to kill them and is holding a gun on them: '… it was held in a very steady hand – the shadows which it threw were motionless, with the sharp, unreal contours of shadows in a stage set. Of the figure behind it nothing could be seen except the slim, well-cared-for hand which held the revolver. Fen checked the instinct to flight, swiftly turning his back on the light to shield Brenda with his body. Futile enough, he knew; one bullet for him, one for her, and so an end.' (Love Lies Bleeding, 1948.)
A complex character, abrasive and often offensive, Fen is a staunch ally. '"Come on," said Fen. "We're going to make a move now."
He helped her to stand. She staggered, one arm around his neck. The raincoat dropped unregarded to the ground.
"All right?" he asked.
She gave a little gasping laugh. "I can manage."
On an impulse, he kissed her gently on the forehead. "Bless you, my child," he said lightly. "Now, as quietly as possible, and no talking, please."' (Love Lies Bleeding, 1948.)
Fen's speech is frequently as eccentric as his manner. His favourite explanation is, '"Oh my dear paws!"' quoting the White Rabbit in Lewis Carroll's Alice in Wonderland.
The character that shares more of Fen's adventures than any other is his small, red sports car, Lily Christine III; a vehicle as eccentric and egocentric as Fen is himself. Lily Christine is an invaluable ally in the numerous comic chases that are scattered throughout Fen's adventures and can always be relied upon to help him to make an entrance that cannot be ignored.
In The Moving Toyshop (1946), Crispin treats us to a leisurely and beautiful description of morning in Oxford: 'Out of the grey light came a gold morning. The leaves were beginning to fall from the trees in the Parks and in St. Giles', but they still made a brave show of bronze and yellow and malt-brown... All over the city in colleges and belfries, the mechanism of clocks whirred, clanged and struck nine o'clock, in a maddening, jagged syncopation of conflicting tempo and timbre.'
And then, into the civilised scene: 'A red object shot down the Woodstock Road.
It was an extremely small, vociferous and battered sports car. Across its bonnet were scrawled in large white letters the words LILY CHRISTINE III. A steatopygic nude in chromium leaned forward at a dangerous angle from the radiator cap.'
Having turned into the private road leading to St Christopher's and narrowly missed demolishing the college buildings and the President, who had been standing looking out of his window, the car traverses the college grounds and, 'thundered across a strip of lawn, buried its nose in a large rhododendron bush, choked, stalled, and stopped.
Its driver got out and gazed at it with some severity. While he was doing this it backfired suddenly – a tremendous report, a backfire to end all backfires. He frowned, took a hammer from the back seat, opened the bonnet and hit something inside. Then he closed the bonnet again and resumed his seat. The engine started and the car went into reverse with a colossal jolt and began racing backwards towards the President's Lodging. The President, who had returned to the window and was gazing at this scene with a horrid fascination, retired again, with scarcely less haste than before. The driver looked over his shoulder and saw the President's Lodging towering above him, like a liner above a motor boat. Without hesitation, he changed into forward gear. The car uttered a terrible shriek, shuddered like a man smitten with the ague , and stopped; after a moment it emitted its inexplicable, valedictory backfire.'
This is one of the most the glorious things about Crispin's novels; they are funny on several different levels from sophisticated satire to slapstick farce, worthy of the Carry On films that Crispin had been involved in as a composer.
The plots that Gervase Fen tackles are complex and quite often fantastic, although always intelligent. This is because Crispin is fond of the locked room mystery and, having created an apparently impossible crime, he has to find a way out of it.
The character of Fen is a delight, whether he is working at his 'proper' job as a Professor of English or straying into whatever new career his restless imagination takes him. In Buried For Pleasure, (1948) he decides to stand for Parliament, (inevitably as an Independent candidate) and proves to be a remarkably fluent and persuasive speaker, until he decides that he would hate being an MP. At this point he gives a final speech telling his prospective constituents what he thinks of them. 'Fen got to his feet and stood for a moment surveying the rows of politely expectant faces below him with a satisfaction that he had not experienced in his whole lifetime. And the survey completed, the banquet of consternation savoured in anticipation, he removed the safety pin of his grenade. "It is often asserted," he said, "that the English are unique amongst the nations for their good sense in political matters. In actual fact, however, the English have no more political good sense than so many polar bears. This I have proved in my own person. For some days past I have been regaling this electorate with projects and ideas so incomparably idiotic as to be, I flatter myself, something of a tour de force."... "Such dreary fallacies as these, expounded by myself, have been swallowed hook, line and sinker." (Buried For Pleasure, 1948.)
Imagine Fen's dismay when, despite this tirade, he wins by one vote. Fortunately an error on the part of his agent allows him to escape his parliamentary fate.
The pervading feeling of the fantastic is not just in Crispin's plots it is also in Fen's character and actions, as when let loose in a murdered opera singer's dressing room. 'Fen had been standing in front of the mirror, painting a large black moustache on his face. He now turned and exhibited the result. Elizabeth uttered a little squeal of delight. Fen frowned at her.' And, a little later, '"This becomes interesting," said Fen. He had applied removing cream to his upper lip, and now looked as if he had been eating blancmange.' And yet, a few moments later, 'Fen had stopped fidgeting, and was sitting on the edge of the dressing-table, his blue eyes intent, his usual fantastic naivety for the moment in abeyance.' (Swan Song, 1947.)
Crispin's use of language is remarkable in that he can combine humour with wonderfully precise description. He conjures up images with a few words: 'And in the midst of them stood the Inspector, like a minor devil enumerating the canons of hell to a coven of particularly obtuse witches.' (Swan Song, 1947.) At the same time he has a great deal of fun, reminding readers that Fen is a fictional character. '"Professor Fen" - Elizabeth adopted her most politic charm – would you be prepared to let me interview you for a newspaper?"
Fen made a feeble attempt to show disinclination. "Oh, I don't know," he mumbled.
"Please, Professor Fen. It's in a series. I'm hoping to do H.M., and Mrs Bradley, and Albert Campion, and all sorts of famous people."' (Swan Song, 1947.)
In Holy Disorders Fen is disgruntled when Scotland Yard is going to be brought in, although he grudgingly admits that Appleby (Michael Innes' iconic, fictional detective) is good at his job. Unfortunately Appleby is not the detective that arrives to solve the case but some very inferior policemen. A Fen and Appleby book would have been truly wonderful.
In The Moving Toyshop, when Fen and his companion are overpowered and tied up, Fen whiles away the time in the following unique manner: '"Fen steps in," said Fen. "The return of Fen. A Don Dares Death (A Gervase Fen Story)."
Cadogan moaned and opened his eyes... "Murder stalks the University," said Fen. "The Blood on the Mortarboard. Fen Strikes Back."
"What's that you're saying?" Cadogan asked in a faint, rather gurgling voice.
"My dear fellow, are you all right? I was making up titles for Crispin."'
And, (in the same book) referring to his 1940s publisher's political inclinations, during a chase scene when they come to a fork in the road, '"Let's go left," Cadogan suggested. "After all, Gollancz is publishing this book."
The action of the Gervase Fen novels is set in the early 1940s, either during the Second World War or a few years after the War. Although the stories are set in the time of Crispin's years as a student at Oxford University, he has created a character twenty years older than himself who is a professor not a student; a character that has the prestige, connections and confidence to insert himself into numerous investigations. Real life characters, such as Philip Larkin and C.S.Lewis appear 'off stage' in the books and The Moving Toyshop is dedicated to Larkin, who was a friend of Crispin.
Amongst the likes that Crispin listed in early editions of his books are Wagner and Shakespeare and these interests are also obvious in Gervase Fen. The crime in Swan Song (1947) is set against the background of the first production of Wagner's Die Meistersinger to be produced in Britain since the Second World War and Fen's first arrival upon the scene is with the following complaint: '"It argues a certain poverty of imagination," said Gervase Fen with profound disgust, "that in a world where atom physicists walk the streets unharmed, emitting their habitual wails about the misuse of science by politicians, a murderer can find a no more deserving victim than some unfortunate opera singer."'
Crispin also states that he dislikes dogs and this is equally evident. The unfortunate canines that appear in his books inevitably meet a heroic but violent end. The non-doing pig, unattractive but obsessively faithful, also fares badly at Crispin's hands. However, Crispin does like cats, as is obvious in his portrayal of Lavender, the cat who sees Martians in The Long Divorce (1952.)
Crispin takes places and experiences that he is familiar with and makes them his own. Indeed, in more than one book, he tends to dwell on the difficulties and delays of train travel into Oxford. In many books the background is wartime and post-war Oxford, where theatrical performances inevitably lead to death, as in The Case of the Gilded Fly and Swan Song. He also knows life in small villages and produces cameo sketches of wonderfully eccentric locals, as in Holy Disorders, Love Lies Bleeding, Buried for Pleasure and The Long Divorce. He uses his knowledge of being a first class organist and composer to create the character of Geoffrey in Holy Disorders, which also uses his knowledge of the High Anglican Church. His memories of teaching at a private school form the background in Love Lies Bleeding. In Frequent Hearses his experience of film studios form the background for the novel, and, as always, Crispin is happy to mock himself as well as others. 'She put down the instrument. "A composer," she explained soberly, like one who refers to some necessary but unromantic bodily function.'
Crispin is a remarkable writer who combines elegant description, witty observation, eccentric characters and sudden moments of sheer comedy, and places it within a plot of intriguing if often fantastic complexity. He can also write incredibly tense drama: the plight of Judy, lost in a maze on a dark, wet night, alone and painfully aware that a murderer is very close at hand is truly terrifying. (Frequent Hearses 1950.)
Crispin breaks all the rules and pulls it off, apparently without effort: author viewpoint slides through the novels so smoothly it cannot be considered an intrusion and Fen frequently makes humorous, mildly critical observations about his 'author.' Fen is an engaging character, a man of insight, intelligence and humour, and one who does change and grow: '"As I get older," he explained, "I get less resilient and more predictable. It depresses me sometimes."' (Frequent Hearses, 1950.) However, the essence of the Gervase Fen novels is their comic presence, as observed in the New York Times: 'Crispin is noted for an ability to embellish clever storylines with Marx Brothers touches.'
The Gervase Fen novels were originally published by Gollancz.
Many are now back in print, published by Vintage Books.